EtonHouse Thomson's Programme of Inquiry
Students at a PYP school explore 6 transdisciplinary themes each year from the ages of 3-11. At each year level, an aspect/or aspects of the transdisciplinary theme is explored. Units are created by the school around these aspects and central ideas, lines of inquiry, key concepts, and attributes of the IB learner profile are identified to support the exploration of the transdisciplinary theme. Below you can find our current programme of inquiry from Pre-Nursey to Year 5. The first four pages contain the units themselves with the last four pages representing the maps for the key concepts, attributes of the IB learner profile and subject focuses to ensure a balance across the entire programme from N2-Y5.
Click here to access EHIS@Thomson POI 2020-21
Areas of the Curriculum
Language
Language is the major connecting element across the curriculum. Therefore, in a PYP school, the focus is not only on language for its own sake but also on its application across the subject areas and throughout the trans-disciplinary programme of inquiry. It also facilitates connections with the wider community.
Language provides a vehicle for inquiry. In an inquiry-based classroom, teachers and students enjoy using language, appreciating it both functionally and aesthetically. The love and enjoyment of language through the integration of literature into inquiry is an indicator of good practice in a PYP classroom.
The PYP has identified three strands – oral language (listening and speaking), visual language (viewing and presenting), written language (reading and writing) – learned across and throughout the curriculum, with each strand being an integral component of language learning. Each strand has been considered from both the receptive aspect – receiving and constructing meaning and expressive aspect – creating and sharing meaning. To support us in assessing, planning, and teaching literacy we supplement the IB PYP scope and sequence documents for language with The Fountas and Pinnell Literacy Continuum which gives a comprehensive overview of the development of all aspects of literacy. More information about the Literacy Continuum can be found here.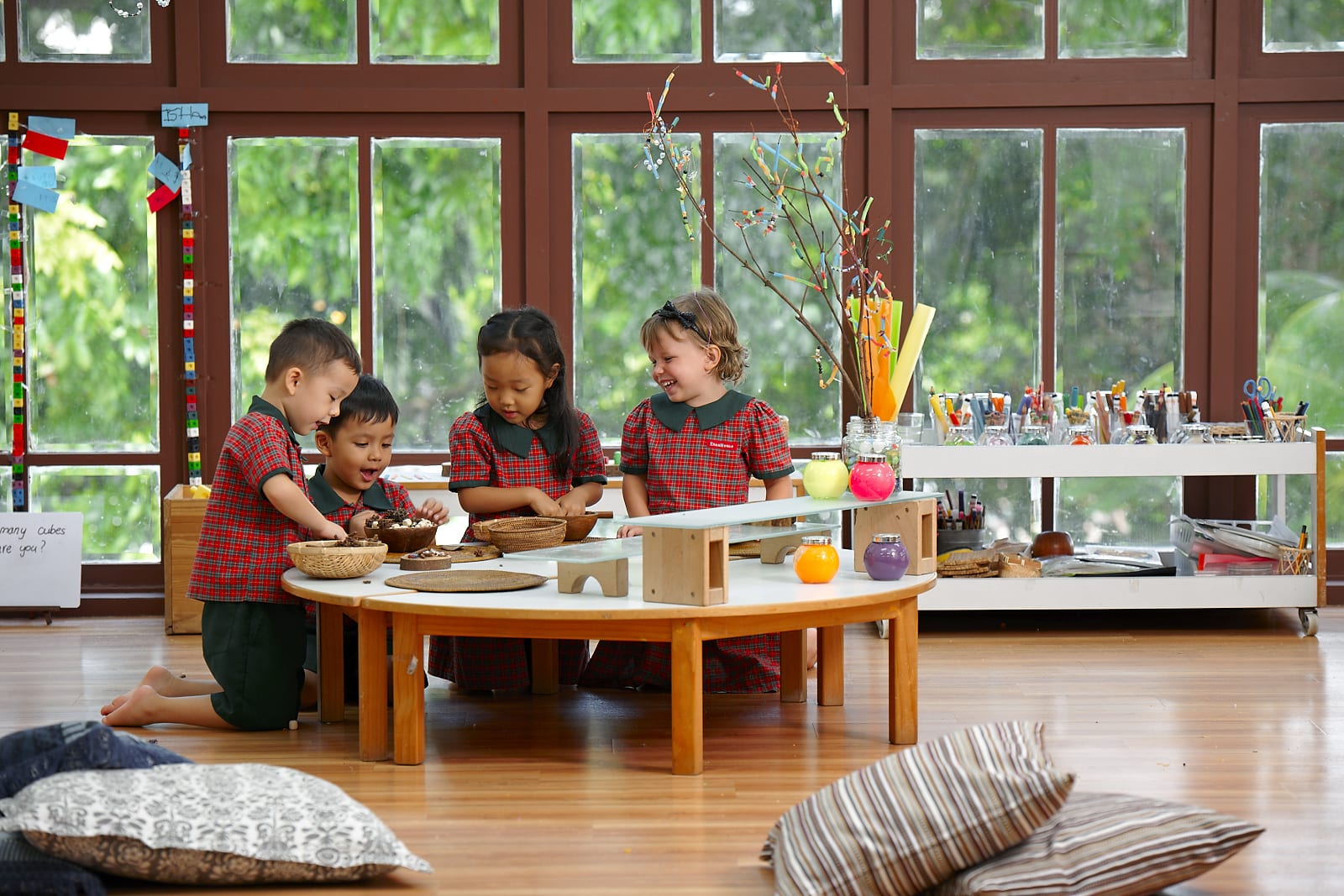 Mathematics
The mathematics knowledge component is arranged into five strands: data handling, measurement, shape, and space, pattern and function as well as number. Within each of these interconnected strands within Mathematics, there should be a balance between the acquisition of knowledge and skills, and the development of conceptual understanding.
In the pattern and function and number strands, students inquire into number systems and their operations, patterns, and functions. They become increasingly fluent in using the language of mathematics as they learn to understand its meanings, symbols, and conventions.
Data handling, measurement, shape and space are often used as tools to research, describe, represent and understand the inquiry in the area of mathematics. They provide the models, systems and processes for handling data, making and comparing measurements, and solving spatial problems.
Social Studies and Science
It is a requirement of the PYP that Social Studies and Science are incorporated within the context of the units of inquiry. Each grade level has 1-2 of their units that are heavily science- or social studies-based so as to offer opportunities for in-depth inquiry and the development of skills in relevant, meaningful contexts.
Science strands
Social Studies strands
Living Things
Human systems and economic activities
Earth and Space
Social organisation and culture
Materials and Matter
Continuity and change through time
Forces and Energy

Human and natural environments

Resources and the environment
Personal, Social and Physical Education (PSPE)
PSPE provides the model, process, and vocabulary for handling social and personal issues, and ensuring health and wellbeing. Owing to the fact that wellbeing is intrinsically linked to all aspects of a child's experience at school and beyond, PSPE is included throughout the curriculum.
The development of overall wellbeing is defined through three common strands: identity, active living, and interactions. Our P.E. Specialist teacher works in close collaboration with the teaching team and children to ensure that the physical education experiences are concept-driven and draw upon the conceptual understandings within these strands.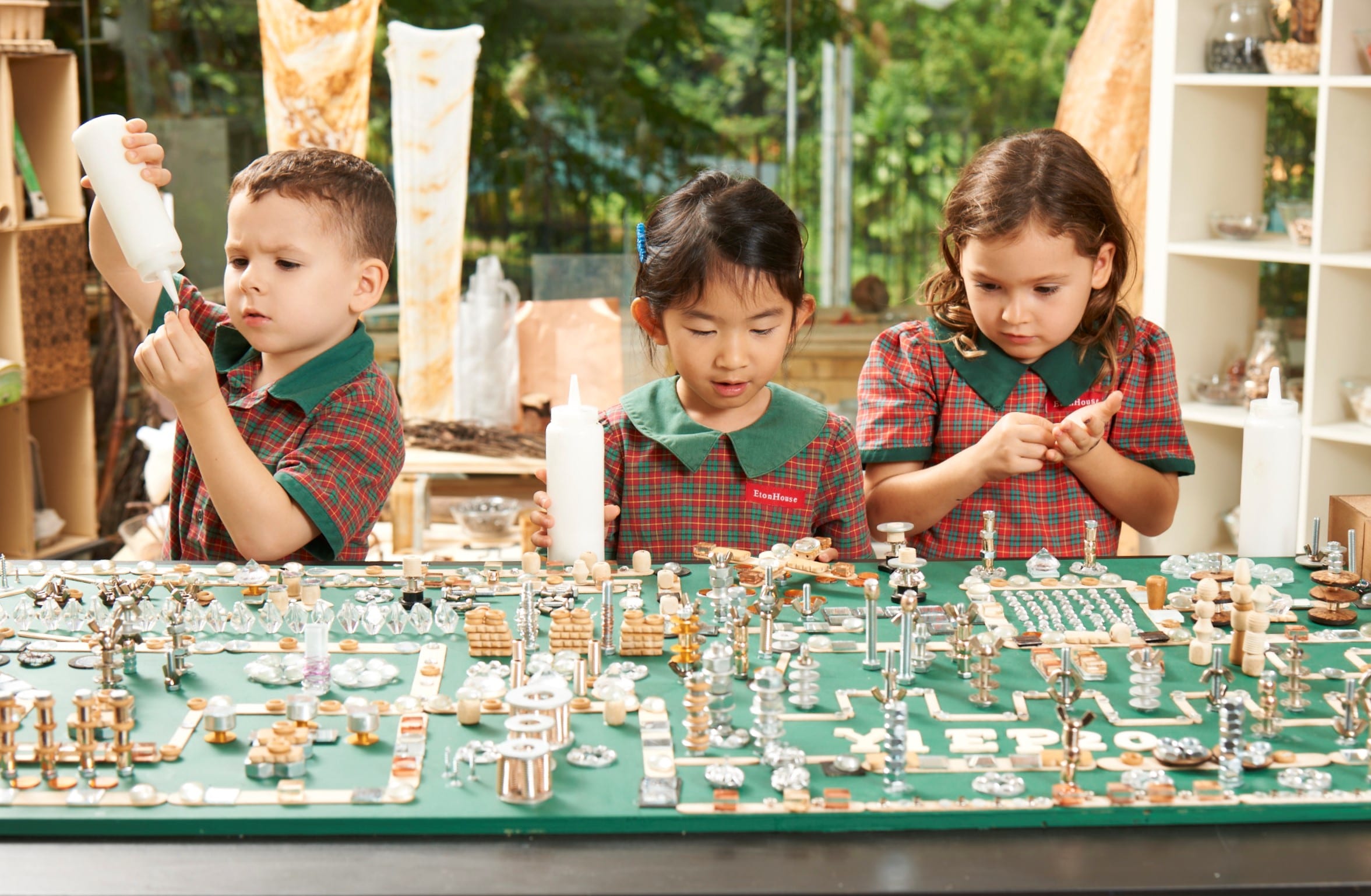 Arts
As our school values the expressive and symbolic languages of children, the arts are incorporated into the curriculum and units of inquiries as essential areas of learning. Children are offered the opportunities and materials to engage in a range of performing arts (dance, drama, music) and visual arts experiences. Our Atelierista (Visual Arts Specialist) works with the children on inquiries that connect with their expression of ideas through the arts.
Mandarin
Mandarin is an integral part of language development. We follow an immersion Mandarin programme, where children are constantly exposed to Mandarin, alongside English language instruction. We believe this approach is how children learn languages instinctively and, by embedding Mandarin learning in authentic and meaningful situations, the children will develop into more confident and competent Mandarin speakers and listeners.
Curriculum Maps
The following documents are the curriculum maps whereby relevant learning outcomes for the year level have been mapped from our scope and sequence documents for each curriculum area against the units of inquiry. Some outcomes have also been identified as standalone outcomes which could be explored outside of the programme of inquiry and sometimes continuously throughout the year. These documents are our plans and projections, and some things may change over the course of a year. Some units may take a different direction and provide opportunities for connections to aspects of the curriculum that weren't previously highlighted.
It is important to remember that students are on their own individual learning journeys. Whilst a curriculum map may contain a learning outcome that the teachers aim to explore with students over that year, each student is different and needs support and challenge that is individualised to where they are at that point in time. Some students may not be at that point, others may be ready for more complex work. Each learning outcome itself can be explored at various levels from simple to increasingly complex.
EtonHouse Thomson
8 Thomson Lane, Singapore 297743
Visit Us
Get Directions
Phone
+65 6252 3322
Fax
-
Email
thomson@etonhouse.edu.sg