IB PYP 

EtonHouse International School Thomson is an accredited 'IB World School' for the International Baccalaureate Primary Years Programme.
IB PYP in the Early Years: Nursery 2 to Year 1
IB PYP in the Primary Years: Year 2 to Year 6 
The IB Primary Years Programme (PYP) for children aged 3 – 12 nurtures and develops young students as caring, active learners in a lifelong journey of learning and as global citizens of the world. Through its inquiry-led, transdisciplinary framework, the PYP challenges students to think for themselves and take responsibility for their learning as they explore local and global issues and opportunities in real-life contexts.
The International Baccalaureate Organization (IBO) aims to develop inquiring, knowledgeable and caring young people who help to create a better and more peaceful world through intercultural understanding and respect. To this end, the IBO works with schools, governments and international organizations to develop challenging programmes of international education and rigorous assessment. These programmes encourage students across the world to become active, compassionate and lifelong learners.
In the Primary Years Programme (PYP) the curriculum is organised around six transdisciplinary themes of global significance: 
Who we are
How we express ourselves
How we organise ourselves
How the world works
Where we are in place and time
Sharing the planet
Students deepen their learning by developing their conceptual understandings, strengthening their knowledge and skills across and beyond subject areas that are interconnected across the units of inquiry:
Language (English and additional languages)
Mathematics
Personal, Social and Physical Education
The Arts (Dance, Drama, Music, Visual Arts)
Science
Social Studies
Through our play-based, inquiry-based approach, our students develop an understanding of important concepts, acquire essential skills and knowledge, develop particular attitudes and learn to take socially responsible actions.
The aim of the IB PYP is to develop international-mindedness in children, thus engaging in inquiries throughout the year. Our children have extensive opportunities to develop the attributes of the IB learner profile:
Inquirers
Communicators
Thinkers
Courageous
Knowledgeable
Principled
Caring
Open-minded
Balanced
Reflective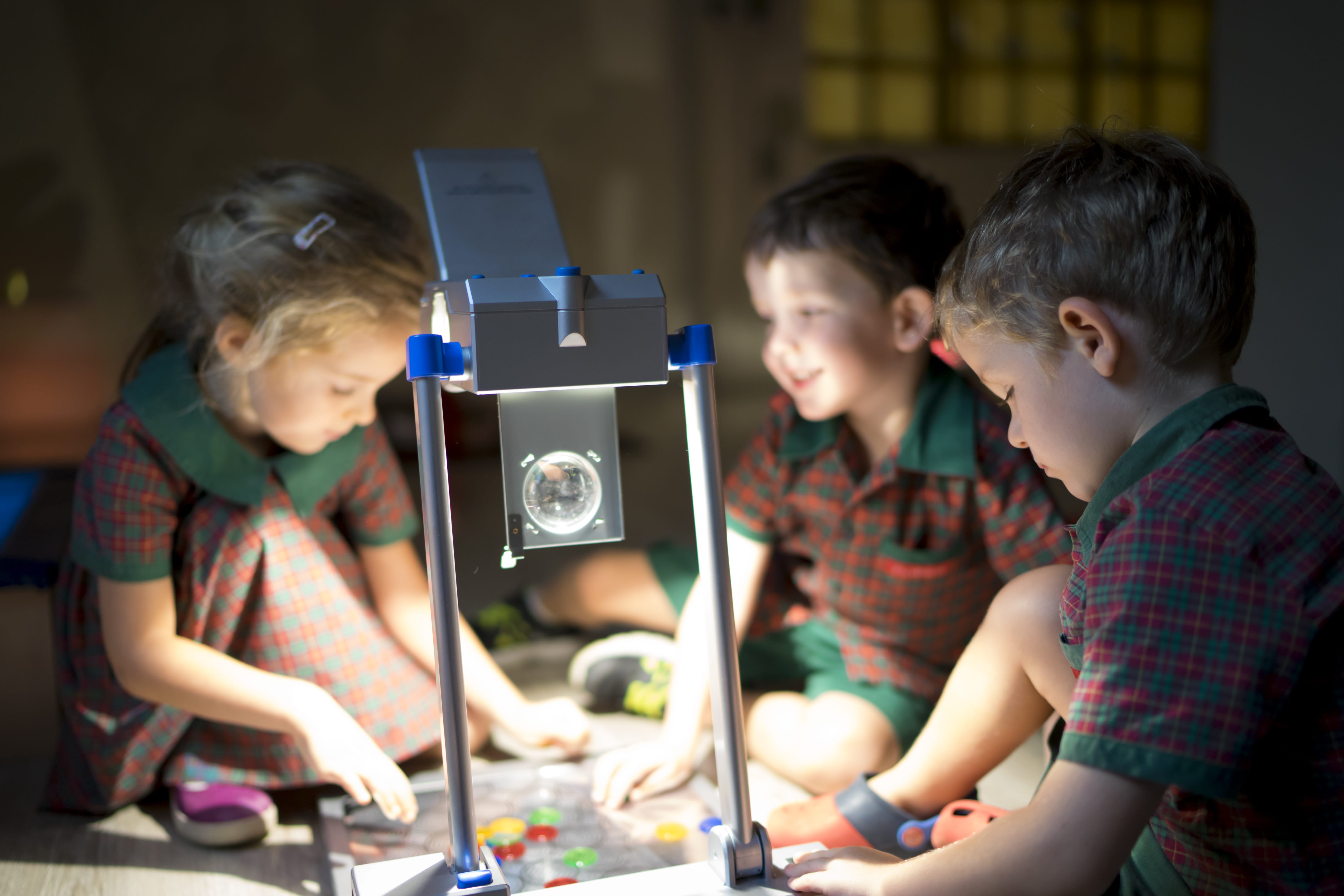 KNOWLEDGE – "What do we want the students to know?"
The PYP curriculum model acknowledges the importance of the traditional subject areas; Language, Mathematics, Social Studies, Science, Personal, Social and Physical Education and the Arts are all specified as components. The overall expectations for each subject area are defined for each year of the programme in specific Scope and Sequence documents.  All subjects are integrated within the programme of inquiry through the lines of inquiry, the trans-disciplinary theme and the concepts.
Students inquire into, and learn about globally significant issues that are engaging and challenging, and actively involve students in their own learning.
The six transdisciplinary themes are considered essential, globally significant, common to all human experience and contribute to the common ground that unifies the curriculums of all PYP schools worldwide. They create a transdisciplinary framework that allows students to "step up" beyond the confines of learning within subject areas.
CONCEPTS – "What do we want the students to understand?"
Eight broad concepts act as powerful ideas and provocations to drive the Units of Inquiry.
Form – What is it like?
Function – How does it work?
Causation – Why is it like this?
Change – How is it changing?
Connection – How is it connected to other things?
Perspective – What are the points of view?
Responsibility – What are our responsibilities?
Reflection – How do we know?
SKILLS – "What do we want students to be able to do?"
There are five sets of transdisciplinary skills which are valuable for all teaching and learning within the classroom and in life outside the school.
Thinking Skills
Social Skills
Communication Skills
Self-Management Skills
Research Skills
ATTITUDES – "What do we want students to value?"
PYP schools encourage the learners to demonstrate Appreciation, Commitment, Confidence, Co-operation, Creativity, Curiosity, Empathy, Enthusiasm, Independence, Integrity, Respect and Tolerance. These are dispositions that express basic values, beliefs and feelings about learning, the environment and people.
ACTION – "How do we want students to act?"
An explicit expectation of the PYP is that successful inquiry will lead to responsible action, initiated by the student as a result of the learning process. Action is a voluntary demonstration of a student's learning and empowerment. At EtonHouse Thomson, our students are encouraged to reflect, choose and act responsibly. We are proud of the many worthwhile actions that result from our students' vision and follow through.
EtonHouse Thomson
8 Thomson Lane, Singapore 297743
Visit Us
Get Directions
Phone
+65 6252 3322
Fax
-
Email
thomson@etonhouse.edu.sg