Richards-Savage Family
EtonHouse Thomson is a truly wonderful school. With choices in abundance, in Singapore we are so grateful to have found this hidden gem. The campus is unique, green and lush with open playgrounds it provides the children with a stimulating environment, it's the perfect urban balance. The school offers a supportive bilingual program, camaraderie between teachers irrespective of year group encourages a connected community spirit which fosters the same amongst parents and teachers. Their support in our children's learning is patient, moderated and adaptable. They have embraced the challenges faced during the COVID situation and managed to maintain the essence of who they are and provide a safe and yet stimulating environment for our children. It is a school we would highly recommend. 
 Dadoo Family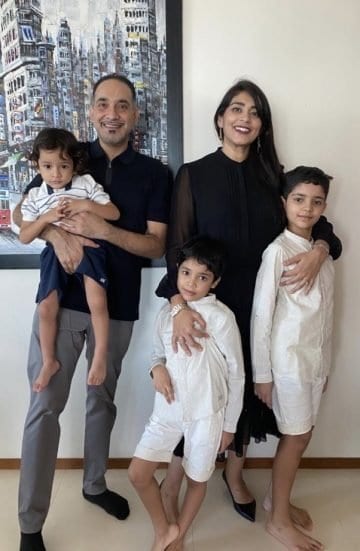 Our sons have been part of EtonHouse Thomson since 2018. Three years later, our children become more engaged, inquisitive, inquiring and confident. The diverse cultures, traditions and nationalities at the school has allowed our boys to enjoy the universal beauty presented. 
The school has a beautiful setting, with spaces for both indoor and outdoor learning, all creating a conducive environment in which the learners thrive. From the personal greetings each morning, to the manner in which the classes are laid out and conducted, our boys feel at home every day when at school. 
Our family has thoroughly enjoyed the experience so far, and we are proud to be a part of the EtonHouse Thomson family!
Aneesa and Ebrahim Dadoo, Parents of Raees (Year 4) and Zaid (Year 2) 
Auris Family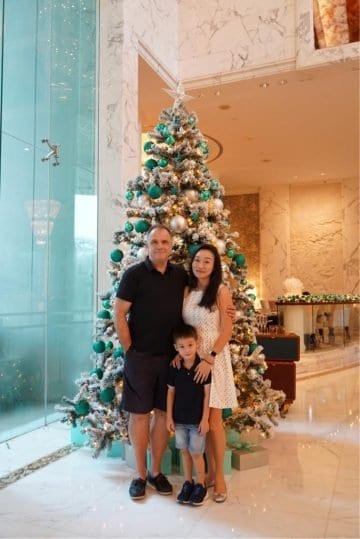 Lucius absolutely enjoys EtonHouse Thomson, which offers a great variety of "hands on" learning activities as well as numerous exploring opportunities aiming to develop him as an individual. We, as parents, do feel proud of his growing process in a very fun-filled and sociable environment provided by EtonHouse Thomson. We are so much happier to put him under tender caring of teachers and all the supporting staff. Great school, great learning experience for Lucius!
Thomas and Jun Auris, Parents of Lucius (Year 1)
Farooq Family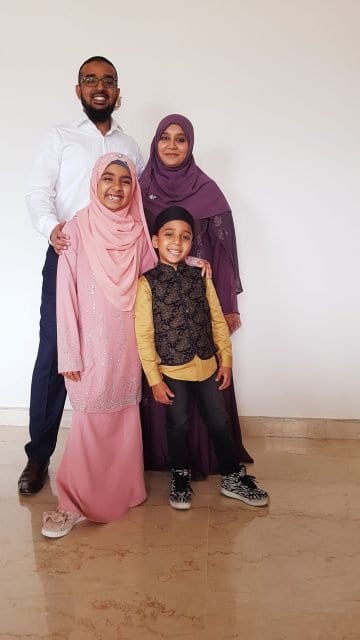 When moving to Singapore, we weren't quite sure how and if we would find a school that we would like for our two children, Sarah going into year 4 and Umar into year 1 at the time. Our priorities were not academic, but rather wholesome character-building; a school that would empower them to grow into confident individuals with an interest & care for people and the wider society around them. We visited many schools ranging from the very sophisticated schools to many smaller schools (including other EtonHouse campuses) and each had their pros and cons. We had a shortlist but in reality, were not convinced with any of them.
A friend recommended us to try visiting EtonHouse Thomson and we first fell in love with the beautiful campus. The school had a very intimate community feel with its open plans and see-through classes that set it apart from the more traditional "big building" schools. What we also loved about the school was the good mix of children from various countries & cultures which was important for us. When we then spoke to Germaine and Susie, it became quite apparent that the school put the kids at the centre of everything they do. We decided to enrol the kids in EtonHouse Thomson after that visit and fast forward two years later, there is no doubt that we would choose to enrol them at EtonHouse Thomson, should we make the decision all over again!
Both Sarah and Umar have developed into amazing, confident, curious individuals with a love for their school, teachers, friends and a keen interest in learning! We find it amazing that we walk through the school and our kids know everyone from teachers, office staff, kitchen staff, students in other classes etc. and more so, they all seem to know the kids as well! The environment makes you feel like you are part of this special family and is something I am sure the kids will always hold dear to them. We will always be grateful to the EtonHouse team for being there for our kids at this crucial stage in their lives, and setting up these important foundations for them to grow on. Thank you.
Farooq and Hawabi, Parents of Sarah (Year 6) and Umar (Year 3)
Florance Family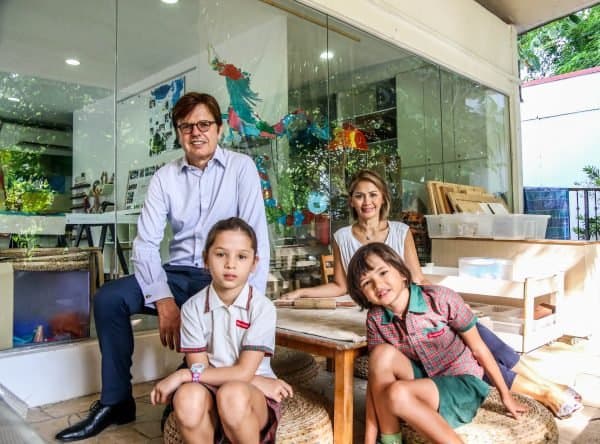 We have two children attending the school, Emilie and Oliver. Emilie is 7 and in Year 3 and Oliver is 6 and in Year 1. They have both been at EtonHouse since they were 2 years old.
For us parents, it's very important that the children enjoy the learning experience. We want them to grow up eager to learn and keen to attend school. In addition, our preference is for a school that is not too big, so the children don't get lost in the crowd or feel overwhelmed – and as parents, this gives us better access to the teachers and management. We also wanted a school with greenery and grounds for the kids to run around. Lastly, we like a school that has a good Mandarin programme, as well as solid PE and arts programmes. We like our children to have the opportunity to be children.
We believe that EQ will become increasingly important for children growing up in this changing world of technology. Rote learning does not provide this – we believe the EtonHouse Thomson approach with the focus on 'learning how to learn' is working towards this goal. We also like the intimacy and the size of the school. The nurturing approach to learning is well suited to our children's personality. A small thing, but we also love that the school caters the children's food. It is great that the children enjoy healthy meals every school day and also see their classmates eating healthy food.
Mark and Riri Florance, Parents of Emilie (Year 6) and Oliver (Year 4)
Lee Family
The key thing that we feel distinguishes EtonHouse Thomson from other schools we have seen is the school culture. The teachers and support staff are always warm, friendly and thoughtful towards the kids and us parents. They never seem flustered or stressed, and this caring, confident attitude permeates the whole school. 
So many schools claim to provide a holistic education but at EtonHouse Thomson they really walk the talk, respecting each child as an individual and developing their emotional awareness, not just their academics. The teachers take time to not just listen to our kids when they're upset, but also help them to figure out alternative ways to cope in the future. 
The school also has an amazing campus – large, light filled classrooms and shady outdoor spaces, like a hidden grove in the middle of a rainforest. I feel so envious when I see the activities they do each day that wish I could be a kid again so I could attend this school as well! It's an unbeatable combination, and we are so glad to have found a second family that cares for our kids so well.
Hans and Elaine Lee, Parents of Elise (Kindergarten 1) and Tobias (Pre-Nursery)
EtonHouse Thomson
8 Thomson Lane, Singapore 297743
Visit Us
Get Directions
Phone
+65 6252 3322
Fax
-
Email
thomson@etonhouse.edu.sg