Our parents share what it means to be a part of our close-knit community that puts children at the heart of all learning experiences.
Kate and In Ho, Parents of Jayhee (N2)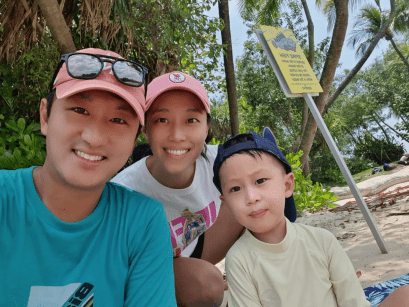 Jayhee – Nursery 2 (2022)
Jayhee has been with EtonHouse Robertson Walk since he was 15 months (started September 2019).
As a parent, I feel that EtonHouse has a very structured yet flexible curriculum which allows children to learn all the skills and concepts necessary but not stringent in anyway. There is definitely focus on making sure children have fun (not stressed) and I feel more of it as Jayhee progresses to upper level classes. The teachers and staff are very friendly, approachable,  supportive and quick to respond to any queries. I especially appreciate how the school / teachers incorporate art into learning that naturally helps children gain interest in colours, textures and improve small motor skills. We have so many of Jayhee's school artworks up on our wall at home! 
Jayhee really enjoys school all around anything from interactions with his friends and teachers,  gym class, art class, outdoor activities and reading time. After so many years, I feel it has become his 2nd home. Every time he will walk into school with a big smile after our usual routine of kisses & hugs (rather than cry because he doesn't want to be apart from mom & dad which happened occasionally when he was very young). 
When he proudly comes back home with handful of artworks and excitingly show & tell what he has created is one of my proudest moments. As he is beginning to learn letters at school and as he picks up more Chinese, seeing him apply the learning at home is also wonderful to witness  and I appreciate the teachers for not only making sure the children have a fabulous time but also making sure they are prepared for the school system down the road! 
Kozue and Yusuke, Parents of Lisa & Rio Kurosaki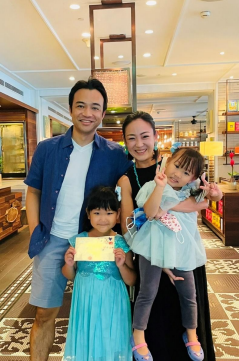 Lisa Kurosaki – Kindergarten 1 (2022)
Rio Kurosaki – Nursery 2 (2022)
EtonHouse Robertson Walk is the first-ever school that our daughters have gone to, with my elder one starting from 18 months and the younger one entering right in middle of Covid. We still remember the first day when we went for a school visit – the artistic facility, the excited children interacting with one another, and the smiling teachers welcoming us and taking time to explain the school's values.  
The community has always proven us right. The warm atmosphere that the teachers and supporting/admin staff create, as well as the great leadership that this team brings – especially during the tough Covid times – has provided great comfort to our family. Also, the depth of their engagement with the children, pushing the boundaries while having fun with them, gives us great transparency into our children's progress. 
The school also provides our daughters with diverse experiences – from art activities and celebrations to learning about the natural environment and diversity. Japanese class brings another dimension of learning, which is absolutely one of their favourite classes. 
We believe pre-school is very important in shaping the early part of the children's lives – not only to  study, but also learn to engage with and care for others, maximising experience, and most  importantly, have fun! EtonHouse Robertson Walk has truly been a family to us and has shaped our  daughters' growth and we are very happy that we have chosen this school.
Tyerell and Yasmin, Parents of Bobby (K1) and Indy (PN)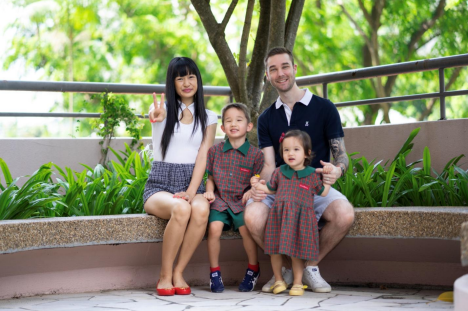 Bobby – Kindergarten 1 (2022)
Indy – Pre-Nursery (2022)
Bobby has been at EtonHouse Robertson Walk for 2.5 years, he is in K1 this year. His little sister,  Indy, just started in Pre-nursery. 
Bobby has been exposed to multiple on-site enrichment programmes – everything from languages such as Mandarin art and Japanese to sports, drama and programming. Being on site,  we strongly believe this has meant Bobby is more excited to try new things with his friends. 
We believe the staff are the best part of EtonHouse Robertson Walk. The community they have built around these very different times has made sure the kids still have fun and learn. Ms. Priscilia has kept everyone updated and been responsive, she is very hands on and knows everyone's name. Bobby's and Indy's teachers have been so supportive and we have always felt connected to the classroom. They are a wonderful team and we receive notes and photos from  Bobby and Indy's week that they enjoy reflecting upon. 
We are proud of how confident and settled Bobby has become over the years. He enjoys welcoming new friends when they join, including his little sister this year. You have never met two happier kids arriving at school! They are so excited to see their teachers and friends every day which is why we love EtonHouse Robertson Walk.
Jeremy & V-lynn, Parents of J-Lynn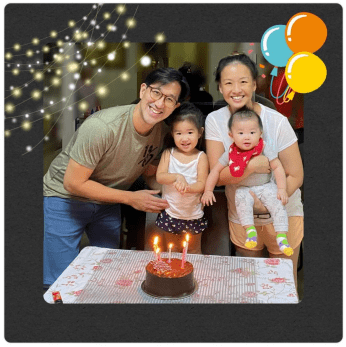 J-Lynn – Nursery 1 (2022)
"J-Lynn was enrolled in EtonHouse Robertson Walk Chinese Immersion program in 2021. She has come a long way, adjusting to attending school independently. It did not help that she hardly had any exposure to the Mandarin language at home, which was the main reason for us enrolling her into this programme. I was fortunate that I was given the opportunity of attending the first few days of school with her. During which, I recollect vividly how foreign Mandarin was to her.  Initially, she was also not really receptive to us speaking Mandarin to her at home. Now, she has grown to show keen interest in the language, proactively speaking Mandarin and also requesting that we help translate certain words for her. 
This is definitely not possible without the kind patience and effort from all the teachers in school.  We have witnessed her develop a strong bond with some of her teachers, particularly 张 and 周 老师, and that is priceless.  
J-Lynn also thoroughly enjoys the variety of enrichment programmes offered by EtonHouse. We  had her enrolled in the Mandarin Music and Movement, Mini Sports and Art Therapy. Hoping  that this will allow both J-Lynn and ourselves, the opportunity to discover her interests and  abilities. 
J-Lynn little brother has just turned 1 and we cannot wait to enrol him into the Etonhouse  Mandarin Immersion program with her."
Nichol, mother of Sascha, Shaia, Xander and Skylar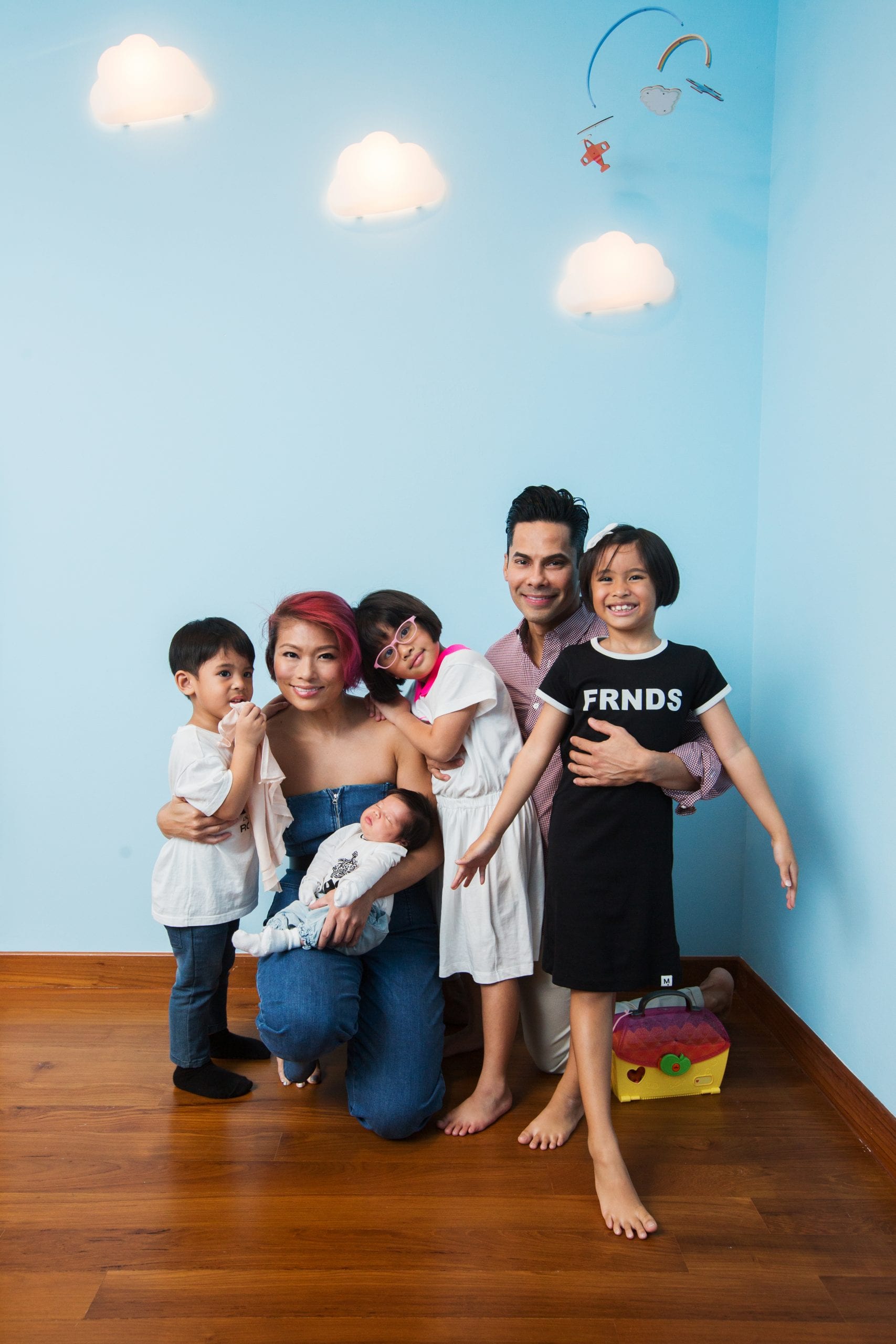 My eldest attended EtonHouse since she was 18 months in 2014 and as we wanted to expose her to the international curriculum in her early years, we placed her in Claymore. Subsequently, we transferred her to Robertson Walk when the new campus opened up on a local system. We wanted to better prepare her for the local system before she turned 7 and EtonHouse Robertson Walk provided her with a great opportunity to transition with the teaching based on the same philosophies and values despite some differences in the curriculum.
We are very happy with the nurturing environment paired with an international mix of students at Robertson Walk that also allowed for our children to learn from diverse backgrounds. Shaia, Our second born joined her sister in 2016 and Xander joined his sisters in 2018. The caring nature of the teachers also allowed me to entrust the school with our children as I was a busy career mummy. Skylar our youngest will also be joining the Robertson Family in May 2021.
I feel that whilst every school will have their strengths and weaknesses, EtonHouse has continuously strived to improve or better themselves with feedback from parents and stakeholders which is important in this fast-paced world of education. The importance of each child's value systems also plays through in many aspects of their teachings regardless of which teacher takes over the class. This consistency is of utmost importance to us as a family.
Overall, EtonHouse Robertson Walk has built a foundation for our children to enjoy learning throughout their growing up years and importantly, they have built managed to build friendships and learnt extensively from their little friends from all over the world. Even the aunties and caregivers at the school made the children feel loved and taken care of. Giving us parents peace of mind.
Thank you to the teachers and team at EtonHouse Robertson Walk for making a difference in our children's lives.
EtonHouse Robertson Walk
Robertson Walk, 11 Unity Street, #02-20, Singapore 237995
Visit Us
Get Directions
Phone
+65 6221 1050
Fax
-
Email
[email protected]