Our research-based and internationally accredited programmes prepare your child to take on the 22nd century confidently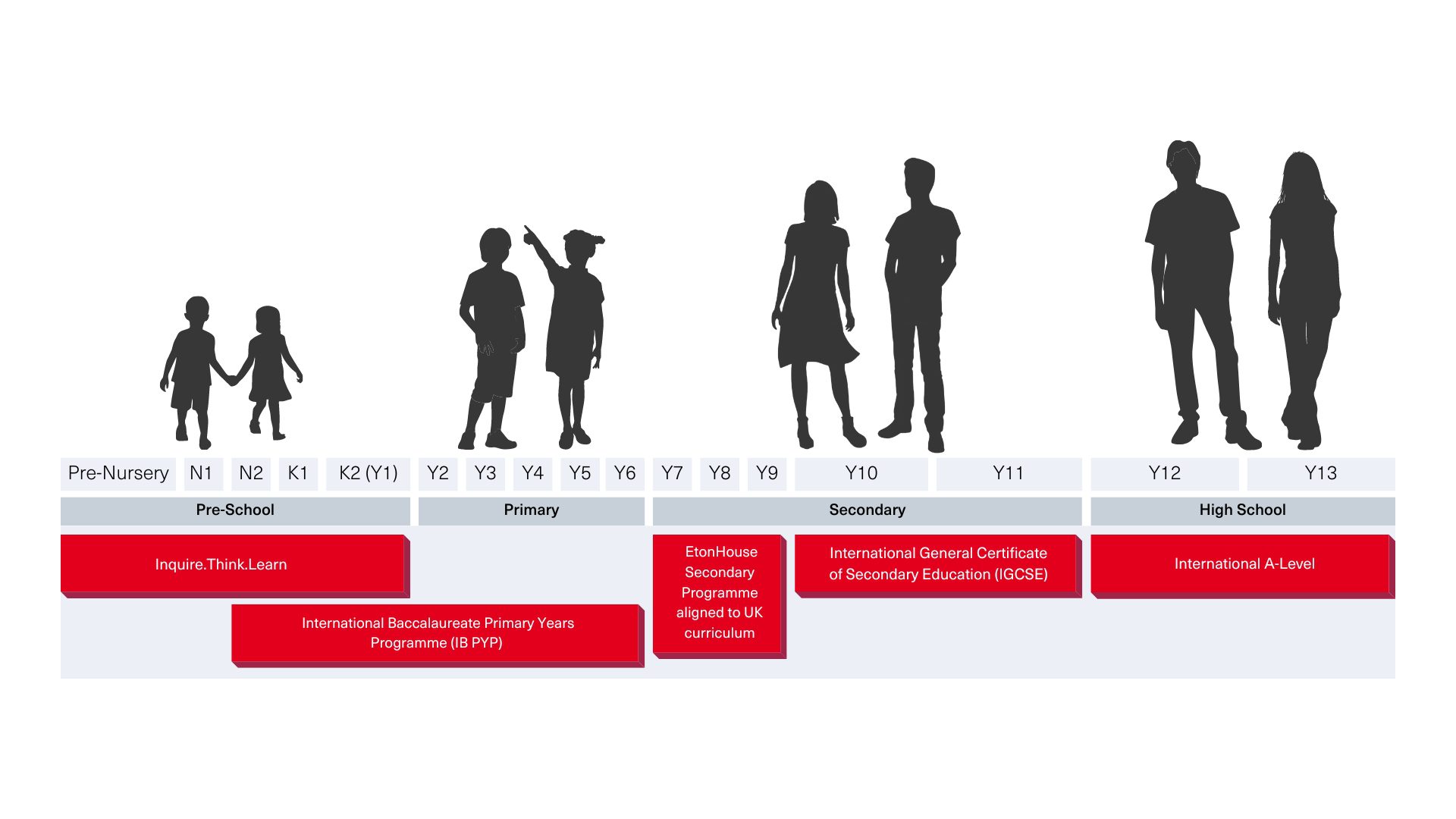 At EtonHouse, we provide a complete educational pathway from pre-school, primary to secondary and high school. Your child can join us from 18 months and graduate at 18 years old with International A-Levels!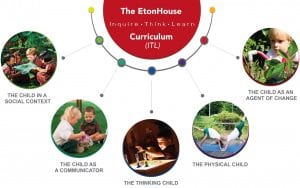 Curriculum: Inquiry-based learning 
Highlights:
Chinese language immersion 
Unique learning environments

Dedicated and qualified teachers

Safe and nurturing environment 

Singapore and International Pre-Schools available
International Pre-School campuses: Claymore and Mountbatten 718
Singapore Pre-School campuses: Garden School by the Bay, Upper Bukit Timah and Mountbatten 223, Mountbatten 717, Newton, Robertson Walk, Vanda and Islander
Chinese Pre-School campus: Zhong Hua at Bukit Timah 
International School campuses: Sentosa, and Broadrick. 
EtonHouse Pre-Schools at Broadrick, Newton and Mountbatten 718 offer the IB programme.
EtonHouse ZhongHua Mandarin Immersion Programme is also offered at Upper Bukit Timah, Vanda, Newton, Robertson Walk and Mountbatten 718.
The foundation for your child's future is laid from the early years at EtonHouse Pre-Schools when his or her curiosity and sense of wonder are boundless. Our Inquire.Think.Learn framework is inspired by the Reggio Emilia approach — it is designed to use inquiry to set up rich learning experiences that support your child's social, emotional, physical, and intellectual development. 

Curriculum: International Baccalaureate (IB) Primary Years Programme (PYP)
Highlights: 
A holistic education that allows students to grow intellectually, emotionally, socially and physically

A boutique learning environment

Strong bilingual programme

Diverse specialist programmes

English as an Additional Language (EAL) Programme for non-native speakers
Campuses: EtonHouse Orchard, Broadrick, and Sentosa
We believe academic success is just as important as character development. At our accredited IB World Schools, we use inquiry-based learning to challenge students to think critically, creatively, and independently so that they are engaged and driven in school, and continue to be motivated to succeed in their adulthood. More than that, we emphasise personal growth, with a focus on international-mindedness.

Curriculum: The International General Certificate of Secondary Education (IGCSE)
Highlights: 
Unique two-year pathway  

Small class sizes 

EAL Programme for non-English speakers 

Well-rounded specialist programmes 

Guided sessions to help students pick up examination techniques 

Project-based SMART programme that encourages innovation and independent learning
Campus: EtonHouse Orchard
The Cambridge-approved IGCSE (equivalent to the Cambridge O Level in Singapore) is the world's most popular international qualification for 14- to 16-year olds. We set our students up for success in this academically rigorous curriculum using proven methods such as a student-centric and fluid approach to learning, and a unique three-year pathway that affords students an extra year to gain a deeper understanding of examination techniques and subjects.

Curriculum: International A-Levels
Highlights: 
College counselling and career guidance

Pastoral care and a student-centric approach

Central location
Campus: EtonHouse Orchard
The International A-Levels is widely recognised by top universities for good reason —it is a rigorous and well-balanced curriculum that preps students for University and life after school. In the two years, students study traditional academic subjects but more than that, they explore the nature of knowledge, study different languages, and hone research and essay-writing skills. At EtonHouse High School, we treat our students like the confident young adults they are. Student agency drives the programme — we give them the room they need to chart their own path while ensuring our specialists are always there to guide and support them. 
Read more about our pre-school curriculum.
For the list of university placements, please click here.
For the list of EIS CPE permitted courses, please click here.
Curriculum, EtonHouse Orchard