"Our task regarding creativity, is to help children climb their own mountains, as high as possible."
- Loris Malaguzzi, Founder of Reggio Emilia schools
What to Expect in the EtonHouse Pre-School Curriculum (9 months - 6 years)
We have a total of 11 standalone Pre-Schools in Singapore apart from our 3 international schools. The pre-schools are categorised into: International Pre-Schools and Singapore Pre-Schools. The former follows the August to June academic school calendar and offer the International Baccalaureate Primary Years Programme (IB PYP) or the EtonHouse Inquire-Think-Learn curriculum framework inspired by the Reggio Emilia approach. 
Our Singapore Pre-Schools follow the Singapore Ministry of Education's Nurturing Early Learners and Early Childhood Development Agency's (ECDA) Early Years Development Framework. Offering childcare services until 7 pm, they follow the January to December academic calendar. 
Whether you pick an International or Singapore Pre-School, all schools follow the EtonHouse Inquire.Think.Learn (ITL) framework. In this research-based method inspired by the Reggio Emilia approach, learning is integrated seamlessly across all areas of the curriculum. For example, children learn to measure and count as they cook, or use spatial language as they play outdoors.
EtonHouse runs REACH, a member of the Reggio Children International Network representing Reggio Children in Asia.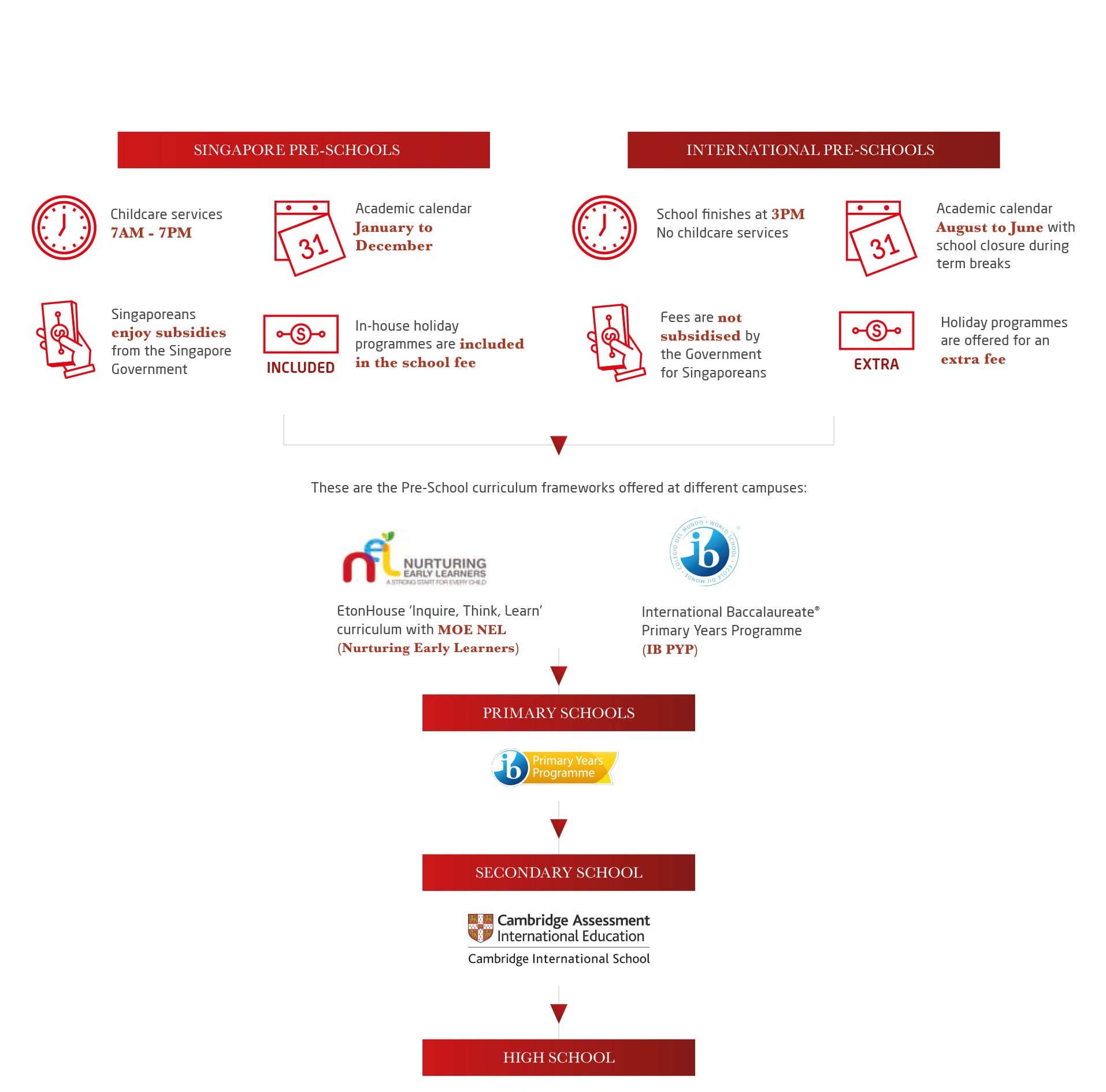 International A-Levels
Here are some of the broad outcomes of early education at EtonHouse:
 Child as communicator
He or she learns effective self-expression on top of gaining literacy, speech, comprehension and listening skills.
Child as agent of change
With sustainability being one of the pillars of education at EtonHouse, he or she gains a respect for the natural world and understands from a young age the environmental impact an individual can make.
The thinking child
He or she gains an understanding of the world, and learns about concepts of logic, problem-solving and lateral thinking through Math, Science and Technology.
The physical child
He or she learns about physical safety and nutrition, and develops fine motor control.
The child in a social context
A nurturing and collaborative environment made of children from diverse backgrounds inculcates communication, negotiation and self-confidence.
Pre-Nursery (18 months - 2 years)
The early years of a child's brain development are critical to learning for life, and the curriculum is carefully planned within the ITL framework to strengthen your child's social, physical, and cognitive skills. 
Language skills are also a priority at EtonHouse — your child will be immersed in an integrated English and Mandarin-speaking environment to develop a repertoire of verbal and non-verbal communication strategies in both languages
Teacher to student ratios are kept to no more than 1:6 so each child receives the level of attention and guidance required to develop social competence and a sense of autonomy. In other words, the building blocks to becoming a confident and well-adjusted individual.
As your child advances to the Nursery years, we continue to offer a safe and nurturing bilingual environment for your child to explore and become independent thinkers and communicators. 
At this stage, learning invitations are carefully planned to create conducive opportunities for children to become familiar with mathematics, science, and technology, and begin to understand basic concepts like numbers, shapes, estimation, prediction, and classification through inquiry and exploration. 
The Arts also play an integral role in all our Pre-Schools in Singapore. After all, the spoken language is just one of the many ways children use to communicate their thoughts, and we use the many different art mediums as conduits for confident and creative self-expression. Our schools have beautifully designed studios to encourage the '100 languages of children' -storytelling, light explorations, tinkering, creative, and performing art to name a few.
Kindergarten (4 — 6 years)
The Kindergarten years are designed to support your child's transition to the more formal education of Primary School. 
The curriculum includes language and literacy learning in both English and Mandarin, mathematical, scientific, and technological learning. Through inquiry, your child will bring ideas to the learning process and work with the support and guidance of teachers to seek answers and creatively solve problems. This collaboration deepens the understanding of concepts and equips your child with the skills needed for independent learning in Primary School and beyond. 
Support is not limited to your child — teachers are on hand to help parents prepare for the various Primary School assessments and offer helpful insights and experiences into the changes ahead.
Why you should enrol your child in EtonHouse Pre-School
Curriculum, EtonHouse Orchard