Singapore Campus Overview
Picking a school for your child is a personal and difficult decision. You have to think about practical things like location and costs. Then there are school-specific factors like the curriculum, classroom sizes and facilities, and bigger considerations like what your child needs and family values. 
We believe education should be inclusive and accessible to all — parents should never have to compromise on the quality of their child's education. The EtonHouse Group in Singapore has schools in different locations and offering a variety of options that cater to families with different preferences. Together, these schools welcome children from 9 months to 18 years of age. 
Download our EtonHouse brochure (English) to find out more
Download our EtonHouse brochure (Mandarin) to find out more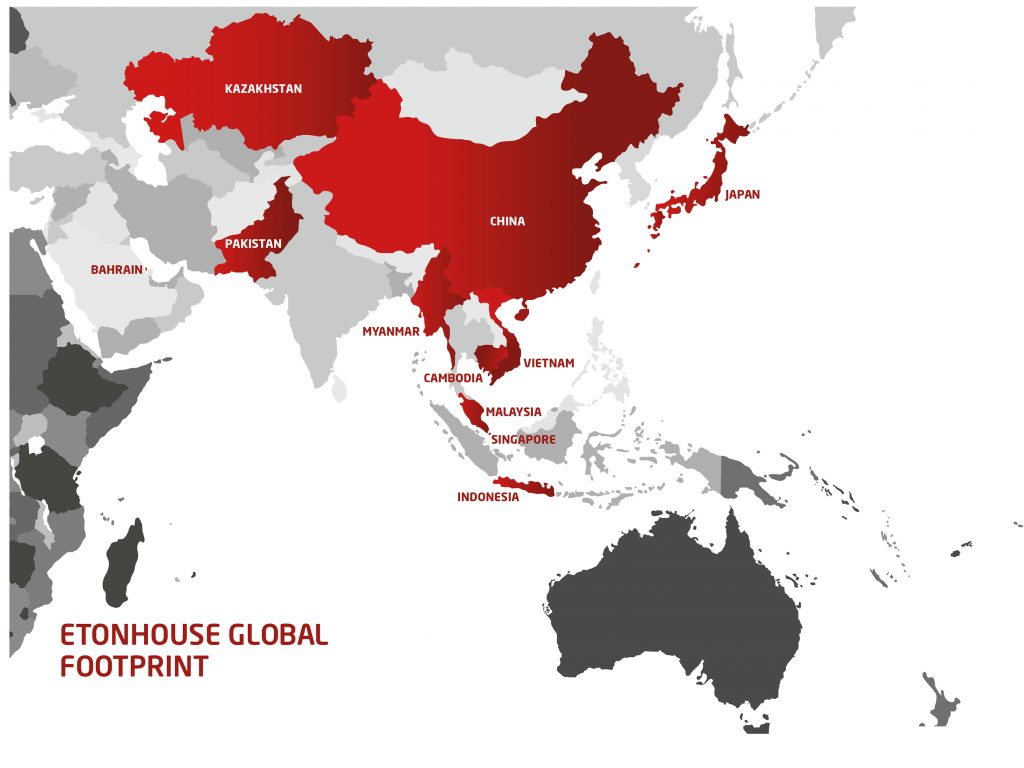 EtonHouse Pre-Schools in Singapore
With almost three decades of history in Singapore, EtonHouse has a strong reputation in the pre-school sector. There are two main categories to our offerings: Singapore and International Pre-Schools. Here is a look at the differences between the two.  
What you need to know about Singapore Pre-Schools
We offer the EtonHouse Inquire.Think.Learn approach with the Singapore Ministry of Education's Nurturing Early Learners

Childcare services are offered from 7am to 7pm

The academic calendar runs from January to December

Singaporeans enjoy subsidies from the Singapore Government

In-house holiday programmes are included in the school fee

Bilingual foundation with immersive Mandarin environment

Option to enrol in EtonHouse Zhong Hua, the first childcare centre in Singapore to deliver the curriculum exclusively in Mandarin. The programme is also offered at EtonHouse Upper Bukit Timah, Vanda, Robertson Walk and Mountbatten 718 campuses. 

Graduates can enrol in both local and EtonHouse International Primary Schools

 
What you need to know about International Pre-Schools 
We offer the EtonHouse Inquire-Think-Learn curriculum as well as the International Baccalaureate (IB) Primary Years Programme (PYP)

School finishes at 3pm. No childcare services are provided

The academic calendar runs from August to June with school closure during term breaks

Fees are not subsidised by the Government for Singaporeans

Holiday programmes are offered for an extra fee 

Robust dual-language programmes

Graduates can stay in the EtonHouse family from Primary to High School
EtonHouse Primary Schools
What you need to know:

We offer the IB PYP
Boutique learning environment
Robust second language programmes in Mandarin, Hindi and Japanese
Strong English as an Additional Language (EAL) support for non-native speakers
Diverse specialist programmes such as sports and art
A comprehensive range of extra-curricular activities provided by teachers and external vendors
Graduates can continue their Secondary years at EtonHouse Orchard — the schools work closely to ensure a smooth transition
EtonHouse Secondary School
What you need to know
Small class sizes, personalised education approach

Nurturing pastoral care programme

Strong EAL programme for non-native speakers

Available at EtonHouse Orchard

Graduates can advance to High School at the same campus
What you need to know
We offer the International A-Levels that gives students even greater opportunities for success and prepare students for university destinations globally

Bespoke EtonCore, Lifeskills course and Career and Guidance programmes to enrich students' Sixth Form life and support them in achieving their aspirations and university choices.

Available at EtonHouse Orchard
Curriculum, EtonHouse Orchard