At EtonHouse International School Orchard, we provide EtonHouse Secondary One to Five (Year 7 to 11) Programme for students aged 11 to 16.
Middle School
We recognise Years 7 to 9 to be of tremendous importance for students and a huge step up in terms of the technical work required. As transition years, we build upon the inquiry-based PYP approach in incorporating Project Based Learning into our curriculum design. 
Our EtonHouse Secondary Programme provides students with an opportunity to study a breadth of academically rigorous topics and subjects, while also building the skill sets needed to be successful at IGCSE. With classes kept small, students get personalised academic and pastoral support to develop their individual competencies and interest while building the pathway to academic success in IGCSE and A-Levels.
Upper School
The school offers IGCSE courses for Years 10 and 11 (ages 14 to 16) which lead to International General Certificate of Secondary Education qualifications. These are externally set, marked and certificated examinations. Students who take an IGCSE subject will be gaining a qualification that is recognised globally.
The IGCSE curriculum offers a variety of routes for learners with a wide range of abilities, including those whose first language is not English.
It helps schools to build a curriculum around their specific needs. Starting from a foundation of core subjects, it is easy to add breadth and cross-curricular perspectives. Encouraging learners to engage with a variety of subjects, and make connections between them, is fundamental to our approach.
For schools, IGCSE offers a flexible and stimulating curriculum, supported with excellent resources and training.
For learners, IGCSE helps improve performance by developing skills in creative thinking, enquiry and problem solving. It is the perfect springboard to advanced study.
There are over 70 subjects available at IGCSE, including 30 languages, and schools can offer them in any combination. IGCSE develops learner knowledge, understanding and skills in:
Subject content

Applying knowledge and understanding to new as well as familiar situations

Intellectual enquiry

Flexibility and responsiveness to change

Working and communicating in English

Influencing outcomes

Cultural awareness
Schools worldwide have been involved in the development of IGCSE. The syllabuses are international in outlook, but retain a local relevance. They have been created specifically for an international student body and avoid cultural bias.
EtonHouse International School, Orchard is proud to announce the outstanding results of our Year 11 cohort, for the International General Certificate of Secondary Education (IGCSE) for 2023. We are thrilled to share these impressive results as they are the best in the school's history and are testament to the hard work and commitment of both students and teachers. Well done and congratulations to all involved.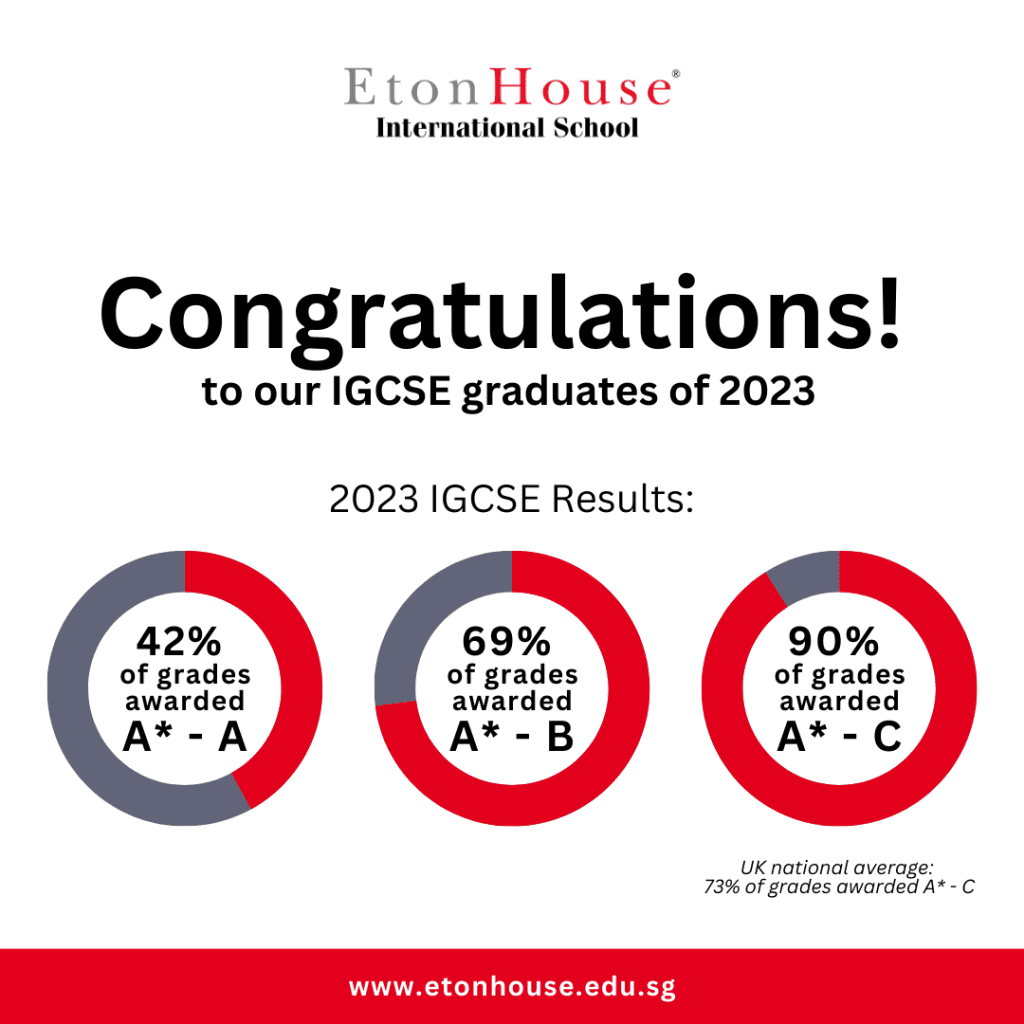 For the list of EIS CPE permitted courses, please click here.