EtonHouse International School is proud to be a non-selective school. We embrace diversity and students from all  nationalities are welcomed.  Successful application is dependent on the availability of places at the different year levels during the academic year. Non-native English speakers applying to Years 7 to 12 are invited to take an English test for us to understand the child's proficiency in the language.
Enrollments are open all year round, depending on availability.
Entry Age Requirements
The entry age is as at 1st September for all year levels.
 

Year

Age

Primary School

Year 1




Year 2




Year 3




Year 4




Year 5




Year 6

5 – 6




6 – 7




7 – 8




8 – 9




9 – 10




10 – 11

Secondary School

Year 7




Year 8




Year 9




Year 10

11 – 12




12 – 13




13 – 14




14 – 15
Wait List
Enrollments are open all year round, depending on availability.  If however, a place is not available for when you wish your child to start, you may place your child's name on a waitlist. To secure a waitlist reservation we will require the application form payment of the application fee (SG$2,675.00). Your child's name will be waitlisted for 6 months; if a place cannot be offered after 6 months, your application fee will be refunded in full.
Admission Requirement
All our assessments are conducted in line with the Common European Framework of Reference for Languages (CEFR). The minimum standard required for each level are:
| | |
| --- | --- |
| Year 7  | A2 |
| Year 8 | A2+ |
| Year 9 | B1- |
| Year 10 | B1+ |
| Year 11 (Foundation IB) | B1 |
| Year 11 | B2 |
| Year 12 | B2 |
If the student is currently not in Singapore, the test may be taken virtually through the following steps: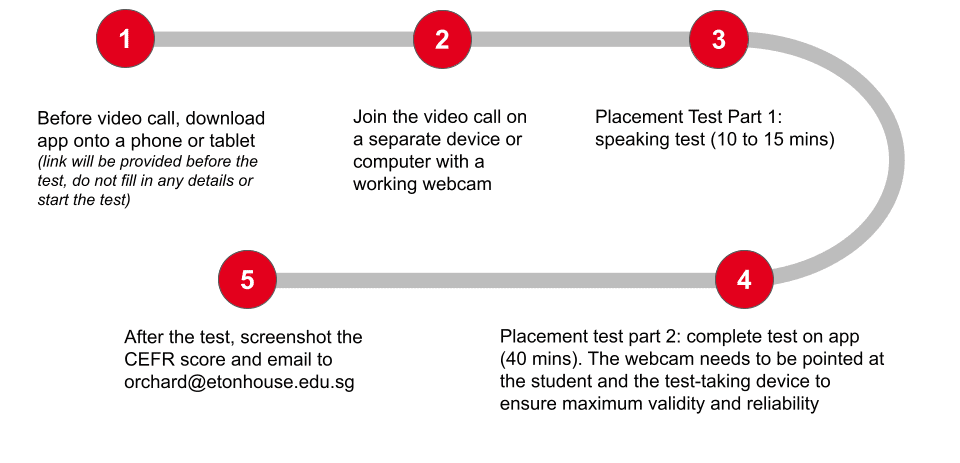 Additional Information:
Advisory Note from CPE and sample Student Contract.
Admission Priority
Admission priority will be given to children of staff, siblings of school students and students from other EtonHouse campuses, and then by date of application.
Student Visa Status
EtonHouse International School (EHIS) is happy to accommodate Singapore Permanent Residents and Dependent Pass holders.
For non-residential immigration status, including Long Term Visit Pass holders, a Student Pass application will need to be submitted. As EtonHouse is an EduTrust accredited school we are able to assist in your child application to the ICA (Immigration Checkpoint Authority). EtonHouse cannot guarantee the successful student pass application as this is controlled by the ICA. Upon successful application, Student Pass holders must meet the minimum 90% monthly attendance requirements stipulated by the ICA.
Click www.ica.gov.sg for more information on Visitor Services.
Singapore Ministry of Education (MOE) approval
In accordance with Singapore law, students aged 6 or older who are Singapore Citizens (by either birth or registration) must be granted approval by the Singapore Ministry of Education (MOE) to study at EtonHouse International School. Children aged 3 to 5 (in the Early Years or Year 1 programme) do not require MOE approval. Our Admissions Department will submit the necessary applications to the MOE before a place at EtonHouse International School has been formally offered.
Postponement of Commencement date
Registration/Application is valid for 1 year if commencement date is postponed. In the event the applicant is still unable to commence after the new agreed date, the registration/application will lapse. (Note: Registration/application fees are non-refundable.)
Refund & Withdrawal Policy & Procedure
Inter EtonHouse Transfer Policy & Procedure