Awards and Accreditations
Our Accreditations
Committee for Private Education
EtonHouse International School is registered as a Private Education institution with the Committee for Private Education (CPE). You may visit https://www.ssg.gov.sg/cpe/pei.html for more information from CPE on the following:
Private Education Act

Enhanced Registration Framework (ERF)

EduTrust Certification Scheme

Fee Protection Scheme (FPS)
Click here to view our CPE certificate.
EtonHouse International School
CPE Registration Number: 199801737E
Period of registration of PEI: 16 December 2018 to 15 December 2022
EduTrust Certificate
EtonHouse International School has attained the required level of performance in key areas of management and the provision of educational services. EtonHouse International School has been granted its second 4-year EduTrust status and will strive for continual improvement in its performance. Click here to view our EduTrust Certificate.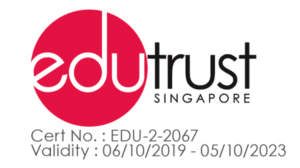 International Baccalaureate (IB) 


EtonHouse International School Orchard is authorised to provide the IB Primary Years Programme (PYP) for our Primary years and the IB Diploma for our High School programme. For more information you may visit

www.ibo.org

.
The International Baccalaureate Mission Statement
The International Baccalaureate aims to develop inquiring, knowledgeable and caring young people who help to create a better and more peaceful world through intercultural understanding and respect. To this end the organization works with schools, governments and international organizations to develop challenging programmes of international education and rigorous assessment. These programmes encourage students across the world to become active, compassionate and lifelong learners who understand that other people, with their differences, can also be right.
Cambridge IGCSE       

EtonHouse International School Orchard is an accredited Cambridge IGCSE for our Secondary Years Programme.
The Cambridge IGCSE is the world's most popular international qualification for 14 to 16 year olds. It is recognised by leading universities and employers worldwide, and is an international passport to progression and success.
Cambridge IGCSE develops learner knowledge, understanding and skills in:
Subject content

Applying knowledge and understanding to new as well as unfamiliar situations

Intellectual enquiry

Flexibility and responsiveness to change

Working and communicating in English

Influencing outcomes

Cultural awareness
Council of International Schools (CIS)

The Council of International Schools (CIS) is a global non-profit membership organization committed to high-quality education. Our community includes more than 1350 schools and universities representing 123 countries. 
All CIS member schools are committed to incorporating international and intercultural perspective into their programmes so that students can move forward with the attitudes, knowledge and understanding that will provide them with a solid base wherever their studies or work may take them.