A bilingual classroom environment and cultural immersion from 9 months make language learning a natural process
We respect the diverse cultures and languages of our students
The cultural heritage and languages our students bring with them are some of the key things that make the EtonHouse family special. We don't just respect this diversity; our robust language programmes celebrate it by nurturing young minds into capable global citizens. 
Our reputable bilingual programmes across all ages in English and Mandarin has already produced several cohorts of fluent bilingual speakers, many are non-native Mandarin speakers. Beyond Mandarin, we also offer Hindi, Japanese, Malay, and Spanish. 
We want to do more than teach students to read, write, and speak in another language. Yes, these skills are fundamental but it is equally important they are exposed to different cultures so they gain a deeper appreciation of the world they live in. 
This is why cultural immersion is a cornerstone of our language programmes. We don't just use stories, eBooks and talking dictionaries to make the learning of the language engaging and fun; we foster an appreciation for the rich culture by organising events such as music and dance performances, and celebrating traditional festivals.
Chinese New Year celebrations in our school
(from Pre-School to High School)​
We offer different ways to access our Mandarin (Chinese) programmes to suit different learning styles and goals.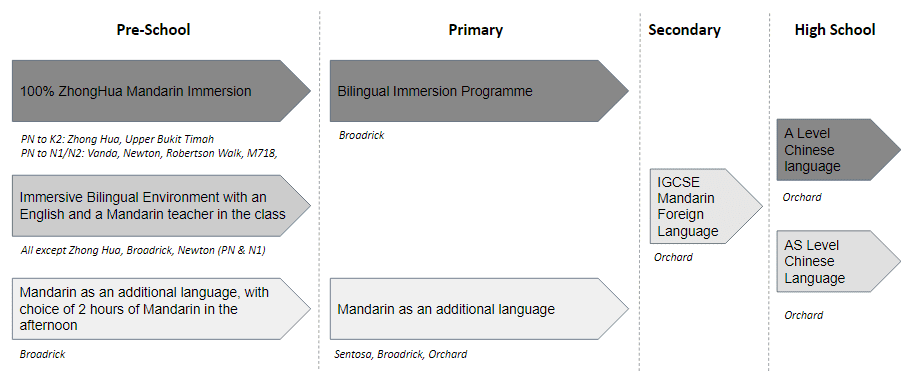 For parents looking for intensive Mandarin language education in the early years, EtonHouse Zhong Hua is the first childcare centre in Singapore to offer an inquiry-based curriculum delivered exclusively in Mandarin. In response to the popularity of the programme, our pre-schools at Upper Bukit Timah, Newton,  Robertson Walk and Mountbatten 718 also offer the ZhongHua Full Mandarin Immersion Programme in the early years.
Alternatively, we have dual-language classrooms where two qualified teachers (one native Mandarin speaker and one native English speaker) jointly deliver the programme within the curriculum framework in pre-school and primary. 
In the primary years, competent Mandarin learners can also choose the Bilingual Immersion Programme offered at the Broadrick campus, where students get intensive Mandarin exposure to help them become effectively bilingual, culturally competent and internationally-minded at the end of Year 6. 
In secondary and high school years, students have the option to continue learning it as a second language for their IGCSE and International A-Levels.
Book a personal consultation with us to find out what would work best for your child. 
English as an Additional Language (EAL)
EtonHouse welcomes students of all backgrounds. For non-native English speakers, our EAL lessons are designed to improve their listening, speaking, writing and reading so that they are able to express themselves, communicate socially and participate meaningfully in the mainstream programmes. Intensive EAL lessons that focus on building a strong foundation in the language as also available to students with limited or no English background.
Hear from the Fernandes family on their experience with our EAL programme.
Middleton Intensive English Programme
Children who are academically successful in their home country are sometimes not able to join international schools due to their English proficiency. We consider this a short-term concern and as such, we have developed the 
Middleton Intensive English Programme (MIEP)
 at our sister school, Middleton International School. Designed for non-native English-speaking students aged 10 to 13 (Grades 4 to 7) who may not meet the mainstream requirements,  it is a short-term course to help them reach the English proficiency level required to transition to a mainstream international school curriculum with regular English as an Additional Language (EAL) support at either Middleton or EtonHouse International Schools.
Curriculum, EtonHouse Orchard