Bilingual Immersion Programme
Want your child to become fluent bilingual speakers? Even if your child is not a native Mandarin speaker or comes from a home environment where Mandarin is not spoken often, it is possible for children to be effectively bilingual at the end of their primary years. EtonHouse International School Broadrick offers a well-established Bilingual Immersion Programme that nurtures children to become truly bilingual, culturally competent and internationally-minded. This programme is aligned with the IB PYP framework and is accessible to children from non-Mandarin (Chinese) speaking families.
A pioneer in bilingual education, nurturing bilingual children has always been a key focus and strength of EtonHouse since its inception in 1995. We offer a 100% Mandarin Immersion Programme at selected pre-schools where our inquiry-based curriculum is delivered entirely in Mandarin. EtonHouse Broadrick was also the first international school to provide a bilingual education programme in English and Mandarin since 2011. 
Over the years, the Bilingual Immersion Programme at EtonHouse Broadrick continues to be reviewed and enhanced based on our classroom learnings and research done by experts in the field. It remains one of the most comprehensive and effective bilingual programmes offered in Singapore. In the Youth Chinese Test results in 2021, the pass rate was 100% and 30% of the students received full marks.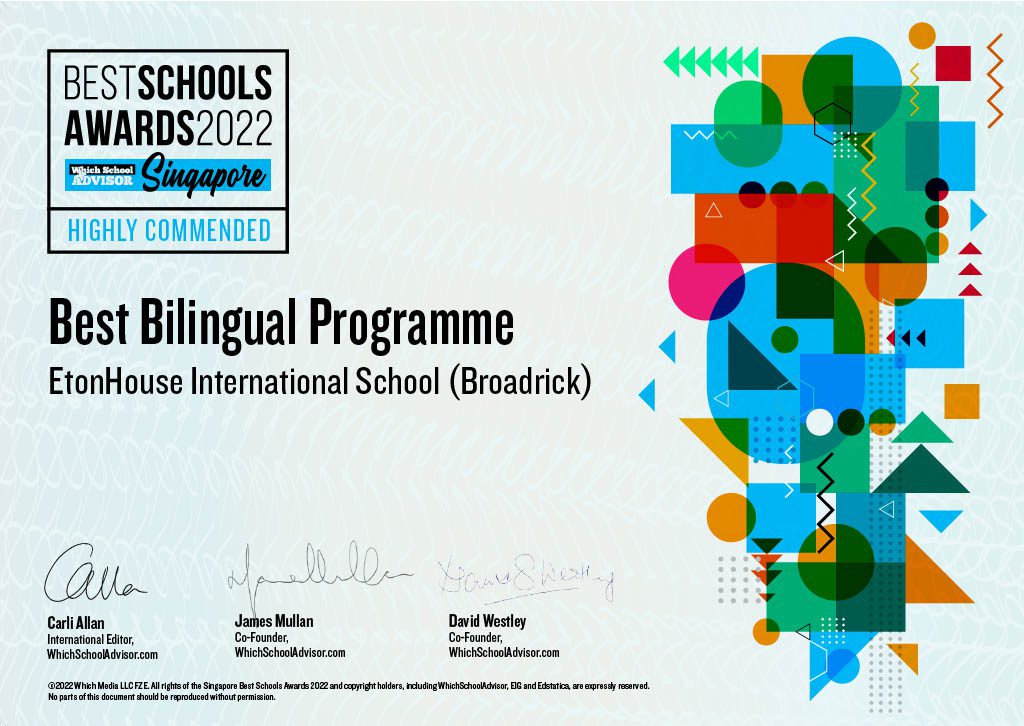 We are pleased to announce that EtonHouse International School Broadrick has been highly commended in the Best Bilingual Programme Award in the inaugural WhichSchoolAdvisor (Singapore) Best Schools Awards 2022. Read the full story of the award here.
Read on further to find out more about our Bilingual Immersion Programme or book a tour with us to speak to our admissions counsellors.

Bilingual Immersion or Mainstream Pathway 
Here at EtonHouse Broadrick, you could choose either the Bilingual Immersion Programme with intensive Mandarin language learning or the Mainstream Programme where Mandarin is taught as an additional language.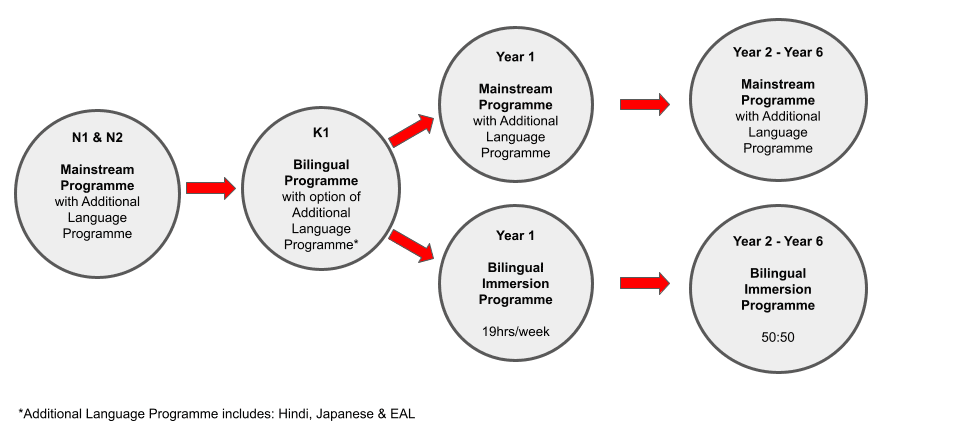 From the moment your children join EtonHouse Broadrick in the early years, they will have access to the Mandarin specialists at the school, receiving daily 30-minutes Mandarin lessons. To strengthen their Mandarin foundation, children in Kindergarten 1 can choose to enrol in the Bilingual Programme conducted in a Mandarin-only environment for half a day. 
In Year 1, children who have demonstrated good aptitude and attitude towards learning Mandarin may choose either Mainstream Programme or Bilingual Immersion Programme. 
Our bilingual programme immerses our Year 1 students in the Mandarin language as much as possible during the school day, thereby ensuring they can use the language naturally while working and playing with their friends. Through this, students build a solid language foundation before transitioning to a 50:50 Mandarin-English classroom model from Year 2 to 6. This structure ensures a high level of proficiency in both languages when they graduate at the end of Year 6. 
The number of hours dedicated to Mandarin in our Bilingual Immersion Programme is a lot more than the Mainstream Programme. Children in the Mainstream Programme get 2.5 hours (in Year 1) and 3 hours (in Year 2 to 6) of additional language (either Mandarin, Japanese, Hindi or EAL) time per week. They will also have an English-speaking homeroom teacher in Year 1 to Year 6 and have all their specialist subjects taught in English.
Overview of Bilingual Immersion Programme
Year 1 –19 hours of Mandarin language time per week
Native-Mandarin speaking homeroom teacher

19 hours of Mandarin language immersion per week that incorporates a lot of Chinese culture learning

Includes 2 hours of Mandarin Reading Support per week

Approximately 1-2 hours of English Acquisition per day

Specific time allocated daily to teach English and Mandarin language rules and concepts.

English is the primary medium of instruction during Mathematics lessons to ensure that children can keep up with the British National Mathematics curriculum

Specialist subjects taught in English
Year 2 to 6 – 50:50 of English and Mandarin language time
English-speaking homeroom teacher

English and Mandarin language time is divided equally

Additional Mandarin support time while homeroom teacher is teaching in English

Specific time allocated daily to teach English and Mandarin language rules and concepts

Specialist subjects taught in English, except visual arts lessons taught in Mandarin

Students may opt to take the Youth Chinese Test in May each year
Advantages of Bilingual Immersion Programme
Qualified teachers
Mandarin taught by a native-speaking teacher with international Chinese teaching qualifications and familiar with Chinese traditions and cultural elements.

English taught by a teacher with international English teaching qualifications, has correct pronunciation and grammar and is experienced in delivering IB Conceptual Understandings and British National Curriculum Outcomes.
Mandarin Immersion in Year 1
Mandarin homeroom teacher has complete control of creating a Mandarin-rich environment for children to immerse in.

Children have more time to learn, review and practice their Mandarin skills daily and are encouraged to use Mandarin in various situations and contexts, not just in explicit Mandarin teaching lessons.
Learning language in a fun and natural way
Language is not taught but acquired through meaningful experiences based on children's interests. Our creative and enthusiastic teachers are able to create a lively and stimulating learning environment where children have fun learning the language naturally while ensuring that they build and practice targeted vocabulary through natural conversations and the completion of planned tasks. 

Speaking a language without understanding its culture has very little real-world value. Hence we integrate cultures, values, and history into our curriculum to nurture a deeper appreciation and love for the language. Your child can look forward to participating in fun activities such as Chinese calligraphy and

Chinese performances

.

Your child will also get to explore the Chinese culture through field trips and participate in engaging extra-curricular activities where opportunities to speak Mandarin abound. From board games and reading programmes to concerts and public speaking at assemblies, each activity is designed to build their interest and instil confidence.
A systematic approach to learning a new language
Code-switching between both languages allows the student to develop a deeper comprehension of the language and to start 'thinking' in that language. Systematically lays the foundation for the child's competency in the language in the four areas of listening, speaking, reading and writing. 

Our experienced teachers practice differentiated instruction by varying the level of difficulty in the classroom based on each child's ability. This helps to increase engagement, improve learning outcomes, maximise children's learning potential and build confidence.
Developing high competencies in both languages
Lessons clearly and separately focused on English or Mandarin. The Mandarin and English language teachers collaborate to deliver the Units Of Inquiry within the PYP framework. Using an inquiry-based approach, children have to discuss key concepts, ask questions and express themselves in both languages. They thus need to develop high competencies in both languages.
Multi-layered support 
We go the extra mile for greater continuity in learning by partnering with and supporting parents. Our teachers provide regular updates on what's being taught in school to reinforce the same concepts and vocabulary at home.
Learning outcomes
Parents have feedback that their children are more motivated and confident to speak Mandarin and are learning so much about Chinese culture and traditions.

To assess their Chinese proficiency and communicative competence, students may choose to sit for the Youth Chinese Test (YCT), an international standardised Chinese language test for non-native students. The test takes place in May each year.

Students will be fluent in both languages –listening, speaking, reading, writing– by the time they graduate in Year 6.

 After Year 6, students can transit seamlessly to

EtonHouse Orchard

to continue their secondary and high school education and take Mandarin as an

IGCSE

and

IB Diploma (IB DP)

subject.
Accessing the Bilingual Immersion Programme
To be selected for the programme, students need to have an aptitude and a good attitude towards learning Mandarin. Students will need to go through an assessment by our Bilingual Team to determine their suitability for the programme. For students who are not yet proficient in English, we offer English as an Additional Language (EAL) and Intensive EAL to help them access our mainstream curriculum programme. 
| | | |
| --- | --- | --- |
|   | Entry Assessment | Description |
| K1 Bilingual Class | No assessment |   |
| Y1 | No assessment |   |
| Y2 (new students joining from 2nd semester) – Y6 | Assessment for new students and students wanting to switch from mainstream programme  | Test on listening, speaking, reading and writing |
To find out more about our Bilingual Immersion Programme, book a tour below.