We are incredibly excited to expand on our goal of building a rich 'Nature Education Programme' at EtonHouse Sentosa due to our unique location and advantageous surroundings. Thus, we are delighted to have formed a connection and partnership with Bian Tan, a 'teacher of nature' and renowned expert in this field. Bian works with our teachers to deepen understanding and develop possibilities connected to nature, and conducts bi-termly visits to immerse himself in our outdoor programme alongside children.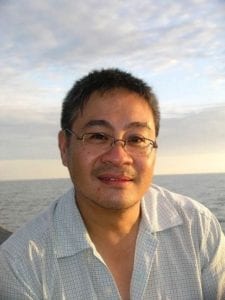 Bian Tan has a background in Ornamental Horticulture (BSc) and Botanical Taxonomy (MSc). He has worked for Botanic Gardens Conservation International, the world's largest network for plant conservation. He assisted botanical institutions in 12 countries in the Southeast Asia region with saving rare plants, environmental education programmes, and staff capacity building.
Bian has worked at the San Francisco Botanical Garden (SFBG), where he curated the living collections and pioneered the development of the South East Asian Cloud Forest collection through collaborations and joint expeditions with institutions in South East Asia. In addition, he was actively involved in teaching docents and the public on various aspects of botanic gardens and horticulture. Bian spent nearly 20 years in the USA and is currently based in Singapore, where he leads nature and heritage tours for the National Parks Board and trains National Parks staff, volunteer guides, and school teachers in plant identification and other nature-related topics.
Visit EtonHouse Sentosa and experience our Nature Education Programme for yourself. 
EtonHouse Sentosa Learning from Nature