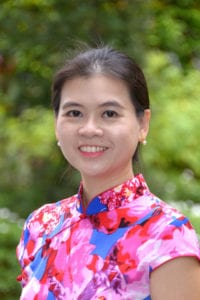 Charlotte Choy
Charlotte had her humble beginnings at the EtonHouse Education Centre (EEC) as a student pursuing her Diploma in Teaching. She was concurrently offered the opportunity to begin her apprenticeship at EtonHouse at 764 Mountbatten Road. Her early exposure to the Reggio Approach at EEC and Mountbatten 764 provided a strong start for her professional progression in EtonHouse which saw her rise from a teaching to a leadership position.
Charlotte began her leadership role at EtonHouse Mountbatten 717 where she worked closely with the teaching team to create a vibrant outdoor classroom for young learners. She believes in the benefits of outdoor in supporting children's learning and holistic development. Charlotte believes that children, as agents of change, should be offered time and space in an open-ended environment with sensorial and innovative resources to develop their creativity and imagination.
Charlotte believes in life-long learning. She continued her professional development journey; pursuing and achieving a Masters in Education, specialising in Early Childhood Education with Monash University. Her success at Mountbatten 717 led her to her next tenure, where she was seconded to Hampton Pre-School (Bishan).
Hampton Pre-School is a collaboration between PAP Community Foundation and EtonHouse International Education Group. Charlotte was tasked to manage and to implement the inquiry approach at the school. She believes that the teaching team plays an important part in the children's learning as collaborative partners. Charlotte mentored and developed a cohesive team of teachers who are dedicated to nurturing the children's natural disposition for learning and to engage parents as active participants in the process.
After a successful tenure at Hampton Pre-School (Bishan), Charlotte returns to EtonHouse to work on a special Mandarin Immersion Curriculum with her teaching team. At EtonHouse Zhonghua, children are exposed to a rich Mandarin cultural experience under the tutelage of a team of Mandarin teachers through the Inquire.Think.Learn framework.
She believes that facilitating successful encounters through stimulating experiences nurtures an intrinsic motivation in the children to learn by formulating and testing new theories through play. While the teachers participate in the children's play as collaborative partners, children have the freedom to develop their own authentic experiences. Charlotte is filled with pride when she witnesses the children's progress as they grow into emotionally secure and resilient individuals who can handle the challenges that are presented to them in today's competitive society.