ZhongHua Mandarin Immersion
(Pre-Nursery, Nursery 1 & Nursery 2 Classes)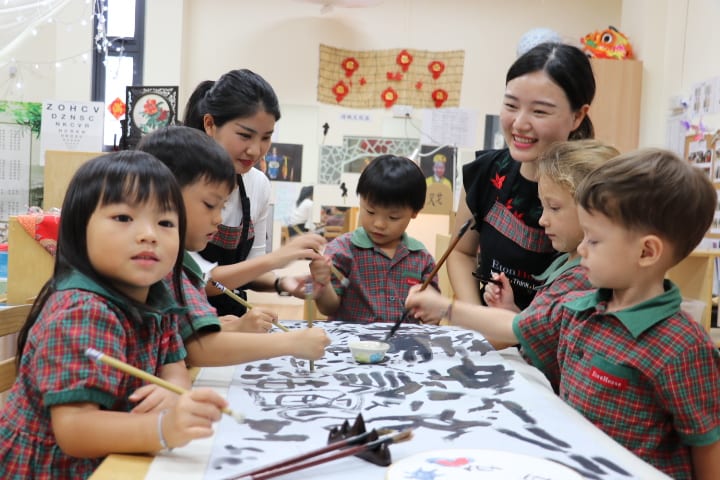 Research suggests that one of the best ways for second language acquisition is to provide children with language instruction in an immersion-type experience that incorporates interaction, communications, play, music & movement, and stories. We provide a Mandarin integrated program in the morning where a Mandarin teacher works alongside the children at all times. We believe that the presence of a Mandarin Teacher in the class will equip the children with essential pronunciation skills and that they will be able to use the language with confidence and ease.
At EtonHouse Zhong Hua, the children in the Pre-Nursery, Nursery 1 and Nursery 2 classes are immersed in an entirely Mandarin-speaking environment. The EtonHouse Inquire.Think.Learn (ITL) curriculum is delivered entirely in Mandarin, with an added emphasis on Chinese cultural experiences such as Chinese art (painting, calligraphy), performing arts (music, dance, drama and songs), literature (stories, rhymes and poems) and festivities.
The learning environment is created for children to experience the beautiful Chinese culture and traditions in a warm, home-like space, featuring unique art pieces, home decorations, art materials and musical instruments. We aim to create an environment where children have the opportunities to acquire the Mandarin language through meaningful interactions with supportive adults who actively communicate and practise their own cultures and traditions. We incorporate the learning and interest for literacy and numeracy in the inquiry projects that our children engage in so that we can ensure that the children explore linguistic and mathematical concepts in a meaningful context. The contextual exposure to experiences that are of relevance to the children's interest provides a more conducive perspective for active and engaged learning.