Chew Family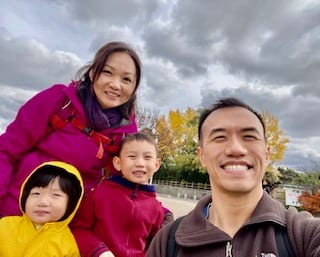 Our foremost reason for sending both our children to Etonhouse ZhongHua is solely for the full Mandarin immersion programme. As we do not speak Mandarin regularly at home, we really appreciate that the curriculum is delivered entirely in Mandarin by native Mandarin-speaking teachers from China, Taiwan and Singapore, and we firmly believe that this is the best way for children to use and love the language which is not the easiest of languages to pick up. However, as we see our children developed their mandarin-speaking skills through play, Chinese poetry, and songs, we have also seen how the teachers have inculcated sound moral values in the children under their care. The school's mandarin immersion programme may be the reason why parents send their children here; however, we find what truly makes the difference is the unwavering care showered upon the children by the wonderful, experienced and dedicated teachers day in and day out. Our son has moved on to another school but is still very fond of his teachers at ZhongHua and asks to visit occasionally which is huge testament of the impact the teachers have had on him during his time at ZhongHua. Meanwhile, our daughter enjoys school so much, she asks to be sent to school on weekends because she misses her teachers and friends! Thank you, Laoshis, for your love, patience, and inspiration.
Child: Myra Chew You Ning, Nursery One
Parents: Tiffany & Wee Kee
Ng Family
"It is the supreme art of the teacher to awaken joy in creative expression and knowledge." – Albert Einstein
When we started searching for a preschool for Leah, Wei Quan and I both knew that we wanted a school that believed in teaching and learning through play. It was important to us that Leah loved learning and was going to learn to take ownership over her own learning. When we were introduced to Etonhouse Zhonghua by our extended family, we were in awe with the way the teaching staff reassured the family and explained our niece's behaviors to us in a child-centred manner. The school's child-centred approach where their educators were respectful of their learners and saw themselves as collaborators to the students' learning attracted us to the school.
10 short months into the program, Leah has flourished under their teaching and guidance. A little girl who used to wail even when strangers greeted her in the lift has become a little social butterfly who constantly amazes us with her endless curiosity of the world. She doesn't falter from strangers and instead presents an eagerness to understand the people that she meets in the streets and the events that she encounters in her world. Seeing her and meeting her teachers have helped me understand that she has simply become the little seedling which sprouted under the guidance of her teachers who embody a similar fascination, love and trust for the world we live in.
Child: Ng En Xin, Leah, Pre-Nursery
Father: Ng Wei Quan
Mother: Kwek Hyen Yu
Matthew Family
Dear Zhong Hua EtonHouse,
What a wonderful start to school life you have given to Lucy!
Thank you so much for your dedication, time and effort you have shown to Lucy. She has loved the school so much and has received a fantastic education – both academically and socially. We are so grateful!
Love the Matthew's family.
Child's name: Lucy Elizabeth Matthews, Kindergarten Two
Mother: Bianca Achilles
Testimonial
Etonhouse Zhong Hua has been the perfect school for our little ones to grow up in. Such a fun and wonderful place to get a solid mandarin foundation surrounded by teachers that are caring and professional. We couldn't have asked for more. Thank you for providing this safe, positive and joyful environment for the children to learn in.
Parent: Nina
Testimonial
We enrolled our first child in Etonhouse Zhong Hua Pre-school – then known as EtonHouse Kindergarten – within a month of the school's opening. I still clearly recall our first visit. The environment was inviting, the staff welcoming, and the children were well settled despite it only being the first week of school. 
Our first child quickly settled into the school and enjoyed it throughout his years there from  N1 to K2, and the school's evolution from EtonHouse Kindergarten to Eton House Zhong  Hua Pre-school. His continued love and appreciation for the Chinese language and culture is a true testament to the dedication from all the staff over the years. His confidence and enthusiasm to share what he has learned stems from the EtonHouse environment. He eagerly returned to the school a few weeks after graduating from K2 so that he could share what primary school life was like. EtonHouse Zhong Hua has played a large part in helping to mold him into the person he is today. 
Based on his experiences, we placed our second child on the school's waitlist as soon as he was born and enrolled him in EtonHouse Zhong Hua immediately once he was of age. Our second child has also gained an appreciation for the Chinese culture and is quickly developing an interest in Chinese literacy. We know he will have many happy years at  EtonHouse Zhong Hua before it is his turn to graduate to move on to primary school. 
Our initial goal for our children was to have them gain a good foundation in Chinese in preparation for primary school. To our delight, EtonHouse Zhong Hua not only continues to deliver on this, but its caring and supportive team dedicates itself to developing the children  under its care into confident, curious individuals with a sense of responsibility. 
They say that "it takes a village to raise a child". We are very happy that Etonhouse Zhong  Hua Pre-school is part of our village. May you continue to cultivate a love of Chinese and learning in your community! 
Parent: Jaime