2022 is a very special year for EtonHouse International School Orchard. We are delighted to share the outstanding achievements of our very first batch of High School (International Baccalaureate Diploma) students at EtonHouse International School Orchard.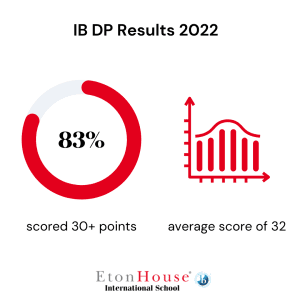 Join us as we congratulate the Class of 2022 on their High School (IB Diploma) results, an average score of 32 with 83% receiving more than 30+ points. The students have also received university offers and acceptances from over 20 top universities worldwide, including the Russell Group universities. Our students will be pursuing offers in medicine, engineering and sports science to name a few. View the complete list of confirmed university offers here.
This batch of students has been on an arduous path over the last two years with the many disruptions caused by the pandemic. Their academic success against all odds is a testament to their resilience and their ability to persevere and achieve their goals against all odds. 
Curriculum, EtonHouse Orchard